Starting a Private School
Table of Contents

Legal and operating requirements
---
Introduction
Preparing to open a school is a significant undertaking. The following guide is intended as a starting point with considerations and resources that can help with your planning. We hope you find it valuable!
Please note, we've done our best to pull together current and accurate information. Even so, there may be omissions or mistakes or content that needs to be updated. If you have recommendations for any resources or corrections, we appreciate your input so we can continue to improve this guide for everyone.
Last, nothing in this guide should be construed as legal, business, or tax advice. It is important that you engage qualified professionals who can advise you on such matters.
At Twine, we are excited about helping schools, passionate about transforming learning and focused on improving student achievement. We are proud to provide technology solutions that help schools achieve their goals. Best wishes to you on this new journey!
---
School Identity
Topics covered
Selecting a name
Creating your brand
Selecting a name
Choosing a name for your school is a great place to start because it is a piece of information you'll need to have on basically every piece of paperwork you're going to complete during this process. If your school is going to be affiliated with an already-established chain of schools that has some kind of standard naming convention, you're a step ahead of the game. If you need to come up with your own school name from scratch, you'll want to keep a few things in mind:
Does another school already exist with this name?
Coming up with a completely original name can be a challenge. It is not uncommon for schools in different states to sometimes use the same name. This may not be a problem, but you should check into copyright claims if you're using a name that exists nationally (see below). Having two schools in the same state with the same name will almost certainly cause confusion.
In addition to a quick Google search, the following sites can be helpful to ensure there aren't other schools in your area that are using your intended name:
Are there any copyright concerns with any of the words/phrases included in your name?
This isn't usually a problem, but if your desired name might potentially be confused in the marketplace with other existing companies or brands, you may want to get the advice of an attorney who specializes in intellectual property before finalizing your name. Many schools use the name of their founder in the school name, for example. In most cases that's fine, but if your last name happens to be Kaplan, the folks at Kaplan Test Prep might reasonably get upset if you were to open under the name Kaplan Preparatory School.
Is a logical domain name available?
Your domain name is how you will be known and found on the Internet. Domain names are what defines your website address and email addresses (for example, our domain name is choosetwine.com). The domain name for your school needs to be easy to remember and ideally easy to type. If possible, it is best to keep it short and avoid using hyphens and underscores in the name.
It used to be the case that domains had to end in .com, .net, or .org. In recent years it has become possible to use hundreds of domain endings, making it much easier to find a domain name. If .com and .org are already taken for the domain you want, good alternative endings are .school, .education, .academy, .online or even .info.
Domain names are reserved through a Domain Registrar. There are dozens of registrars you might use, and typical cost for a domain name is anywhere from $8 to $40 per year, depending on the domain ending and the service you use. Common registrars that you can use for searching and reserving domain names include:
Note that many domain registrars offer additional services such as web hosting, email accounts, SSL certificates, etc. You don't necessarily want to host your website or email with your domain registrar, and you don't have to. It is common, for example, to register your name with GoDaddy, have Google for your email, and to use Twine for your website hosting and school management.
Need help navigating names and domains? Reach out to one of our experts for assistance!
Creating your school brand
If you're considering starting a private school, you've probably put some thought into what is going to make your school stand out from the other options that are available in your community.
Core values and mission
Here are some things to think about when conceptualizing your private school:
Why would parents want to send their kids to my school?
What about our school makes us stand out from other options in our community?
How do we want to be perceived by our community?
What are the school's core values?
What is the mission for our school?
The answers to these questions are going to set the tone for your school culture and will influence your recruitment of prospective students. It is important to take the time to explore these ideas thoroughly. Ask friends and family for input, and be certain about what you're setting out to do.
If you're not sure how to come up with core values or need some inspiration, the New England Association of Schools and Colleges has a resource they provide to their public schools for thinking about and establishing core values. While the guide references public schools, the recommendations and processes they propose are useful for any school to consider.
Visual Branding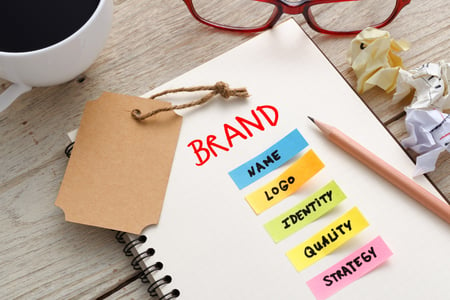 Creating your school brand also includes considerations like your school mascot, colors, logo, letterhead and other visual materials that you'll use to represent your school. Whether you create these items yourself, enlist the help of friends or family, or hire a graphic designer/artist is both a personal and financial decision. In all cases you'll want to have these items for use when developing your website, and for advertisements and other documents you'll produce over the coming months.
We've found that a great starting point for your visual brand is development of a logo or wordmark for your school. In addition to guiding you toward color choices, determining what you want in a logo will help you to think about how you want to present yourself: Serious or playful? Traditional or modern? Colorful or subdued? Once you have your logo and colors you
can adapt as needed for your letterhead, website, PowerPoint presentations, and other purposes.
We've had great success using design sites where you provide specifications and multiple designers have the opportunity to respond with ideas. This approach typically produces a wider array of choices at a lower cost than working with a single designer or design firm. Two good sites for this work include:
Style Guides
Once you've established the basic concepts surrounding your brand, writing and maintaining a school style guide is a worthwhile task that is going to help you have a consistent image. Think of a style guide as a handbook for your brand – it outlines how to use any of the visual materials you've developed in the previous steps: what colors, special fonts, or other visual standards you'll want to impose so your brand has a consistent and professional presentation as you create websites and print documents.
Once you've come up with the ground rules for your brand's visual identity, make sure you assemble them in a document and keep it handy – anything you produce will be checked against this document, and any designers or artists you work with along the way will want to see your style guide to make sure the work they are doing fits with what you've specified.
Style guides don't need to be complex or flashy. As one example, you're welcome to download a copy of our Twine style guide.

---
Curriculum
Topics covered
Finding your focus
Grade levels and subjects
Developing curricula
Selecting textbooks and learning materials
State curriculum requirements
Finding your focus
There's a good chance that curriculum is something you've already thought a lot about in the process of planning and conceptualizing your future school. Many curriculum decisions just come down to what you'd like to see your school look like – do you have a certain focus or specialty in mind already? Perhaps you want to be a STEM school, or have a focus on nature, or cultures of the world, or a particular religious affiliation. Any of these concepts from your mission statement and school values are going to help inform your curriculum.
What grade levels and subjects are you targeting?
Regardless of the type of school you're opening or your specific academic focus, you'll likely want to offer instruction in the four core subjects (math, English, science, social studies), as students typically need these courses to prepare for college and/or transferring to a different school after attending yours. Remember to check your state-specific requirements to ensure you're in compliance with regulations.
As far as electives or other courses outside of the academic core, there are several considerations:
What types of courses do you need to tie into your school's mission? Are you focusing on fine arts, sports, foreign language, public service, theology, or accelerated STEM? Any of the courses you'll need to support your school's overall purpose should be offered to students from the start. You can't recruit students to a fine arts school if you don't offer any specialty arts courses, right?
Consider the teaching needs you're creating. If you're offering Japanese, computer programming, or concert piano, you'll need teachers who are knowledgeable in these subject areas and are potentially certified in these subjects (more on that in the staffing section). Are these types of teachers available in your community?
Will your school be offering a religious component and is it required for all students or an optional elective?
Is physical education going to be offered? Some states require this, particularly at the primary level, so check your state page for more information.
You'll also need to put some thought into which grade levels you are going to serve. Ultimately, if your goal is to operate a K-12 school, it might be easiest for enrollment purposes to start with K-1 or K-2 and expand to new grades each year, bringing your current students forward and eliminating some of the pressure to hire and recruit at high volumes before opening. With this strategy, you can bring on new teachers and students each year at smaller, and more manageable, levels.
One other note on grade levels -- If you're looking at serving high school students, pay special attention to typical college admissions requirements and consider pursuing curriculum accreditation through one of the regional accreditation organizations; having accreditation ensures students will be able to seamlessly go to college without running into roadblocks.
Developing Curricula
Are you going to use an already-existing curriculum or develop your own?
There are national education organizations, as well as religious organizations, that follow certain curricula that are already developed. If you're going to be affiliated with one of these groups, you can take advantage of the resources they have developed. Our associations section can point you in the right direction for many of these.
If you're going to develop your own curriculum, it may be helpful to have an instructional designer lend a hand. Of course, this isn't always possible. If you're on your own, the following resources can help:
The University of Michigan has some great background information about curriculum design, mapping curriculum to particular courses, and using benchmarks and outcomes to guide your planning process.
Hunter college also has a guide aimed primarily at college departments working on getting curriculum approved, but the basics and theory are applicable to primary and secondary schools as well.
Selecting textbooks and learning materials

The great thing for you about choosing textbooks and other learning materials is that it is a part of the process where teachers are likely to want to have a lot of input. Having help is always great, right? You will probably need to decide whether your school is going to have physical textbooks or if you're taking a digital stance and who is providing the books – the school or the students/families. Otherwise, you can appoint faculty members to make book recommendations or do some research yourself – just remember that subject area experts are going to have insight that you might not have into the usefulness of a book, so don't be afraid to get help here!
Textbook publishers are usually enthusiastic about sending product information and offering discounts for schools who are purchasing in bulk, so entertaining a meeting with a book rep isn't a bad idea as you're doing preliminary research. The National Academies of Sciences, Engineering, and Medicine wrote an extensive report on how to choose K-12 science materials that can be worth delving through, while UC Davis has a guide for choosing history and social studies books and scholars at the National Council of Teachers of Mathematics have written a paper on math textbook selection and the National Council of Teachers of English have a similar list of guidelines.
Open Educational Resources (OER) are teaching and learning materials that you may freely use and reuse at no cost, and without needing to ask permission. Some good resources for OER include:
OER Commons website includes more than 50,000 resources, easily searchable by subject area, grade level and standard
CNX features free educational resources organized by module, allowing teachers or curriculum developers to build their own courses by assembling different modules.
CK-12 offers Flexbooks, which are free customizable digital textbooks that include videos and interactives for students to dive into.
Another avenue to explore with textbooks is ordering custom textbooks from a book publisher. This can consist of making modifications to already-existing texts, assembling your own text and having it printed or some combination thereof. If this is something you're considering, reaching out to textbook company reps for general pricing and options is a good place to start.
State curriculum requirements
Some states require that certain classes are taught, or that daily schedules include time for students to be physically active, even at the private school level. Be sure to check out the applicable state resource page for your state to make sure you plan for these requirements.
---
Legal and operating requirements
Topics covered
Federal Department of Education guidelines
State Department of Education guidelines
Operating structures
Non-profit / tax exempt requirements
Insurance requirements
Federal Department of Education guidelines
The U.S. Department of Education does not regulate or control any part of the private school establishment process, and you do not need any approval from the federal government to get started. Some federal funding programs require that schools meet certain requirements; these are on a case-by-case basis and are discussed in the funding section of this guide.
State Department of Education requirements
One of the most important – and sometime complex – tasks when starting a school is determining your state requirements and ensuring your school is following the individual processes your state has in place. These may include registering with the state, accreditation requirements and sometimes reporting requirements. Our state-specific pages outline what each state requires and those will be your best resource for everything from accreditation requirements to policies and procedures for curriculum, school transportation, lunches – basically everything you might need to have in place. Some states have extensive guidelines to follow and others are much more hands-off with private schools.
Operating Structures
Depending on the requirements and laws in your state, you may have the option to operate as a homeschool provider, rather than persue formal certification as a private school. Private schools typically require more stringent regulation and reporting, whereas homeschools often have more flexibility and fewer mandates. Again, these options vary greatly from state to state, so you'll want to consult your state-specific guidelines to learn more.
Non-profit / tax exempt requirements
Organizing as a non-profit is not terribly different than starting any kind of business – some of the forms are different, but the general process is the same. There are some specific structural and reporting requirements, however, and you must apply for and be approved to receive tax-exempt status. Once certified as a not-for-profit entity, you may solicit and receive tax-exempt donations from your community.
The US Small Business Administration has a guide to starting a non-profit that includes the following major steps:
Have a plan and do your homework – Most of this step involves the planning items we've already gone over: making sure your objective and goals are clear, etc. One thing that we haven't gone over yet is creating a business plan, but you'll see more about that soon. This is also a good time to consider seeking out an attorney familiar with startup of non-profits. All the internet research in the world can set you up for success, but only a lawyer familiar with the intricacies of non-profit law can answer questions specific to your situation and guide you through the paperwork and processes you'll need to complete.
Incorporate your nonprofit and establish governance – In order to set up your school as a non-profit and file for 501(c)(3) status, you'll need to recruit a board of directors to help run your school. Your board, along with legal counsel, can help you determine what legal structure you want your school to form under. After that, you just have to fill out the IRS tax-exempt paperwork.
Insurance requirements
The types and amounts of insurance required can vary by state. As always, check the state-specific pages for any published insurance requirements. In general, here are some types of insurance you may want to consider for your school. Note that carrying insurance is a good idea, even if not mandated by your local jurisdiction:
Property insurance – You'll probably want some kind of insurance on your building (if you own it) and the contents inside in case of a catastrophe. As you start to buy furniture, computers, books and everything else that a school entails, the importance of having it all insured will become more evident.
Liability insurance – It is likely you'll want – or need – some kind of liability insurance to cover accidents that could occur on campus.
Professional liability insurance – teachers are typically required or highly encouraged to carry professional liability insurance to protect against accusations of abuse/neglect. Many schools or districts provide this to teachers as a benefit of employment. If your local public district's policy doesn't provide coverage for teachers, it may be worth investigating as a recruiting tool and differentiator to bring qualified teachers onboard.
Auto insurance – If your school is going to own or operate any form of transportation, either for transporting staff or students, you'll want to have a policy that covers commercial vehicle use.
↑ Back to Top
---
Funding
Topics covered
Finding start-up funds
Sources for recurring funding
Helping families find funding
Soliciting contributions
Finding start-up funds
Starting a business of any kind – including schools and nonprofits – you're going to encounter a surprising number of expenses along the way (many of which we will touch on later in the next section on budgets).
A general rule of thumb for determining how much money you need when starting a school is to think about the frequency and quantity of tuition payments you're going to be expecting. For example, if you're expecting to collect $50,000 in tuition twice per year, you should have around $50,000 in start-up funds to keep your school running until the tuition money comes in. If you plan to collect the $100,000 all at once, experts recommend having $100,000 in start-up money to tide you over until all the tuition has been collected.
Setting your school up for financial success is an important step in the process of opening your school, and there are a few ways you can approach it.
Personal funds – Perhaps you're starting a school with the money you've been saving up for some time and you're willing to invest it until the time comes that you can pay yourself back? Great! Be sure to keep detailed records and set yourself a reasonable timeline or milestone at which point you'll pay yourself back.
Borrowing money – Getting a business loan can be a good option but requires planning. Most lenders will want to see a detailed business plan, as well as some kind of collateral as assurance you'll pay them back. For more information on financing your start-up funds, the National Association of Independent Schools has a thorough guide on financing capital projects.
Financial resources available through parent organizations – Many private schools fall under an umbrella or a national organization, or have a religious affiliation. In many cases, these organizations have some funding resources available to their member schools. See our list of associations and organizations for links to those resources.
Individual and local resources – Many small schools start with strong local support, from a group of dedicated individuals with a shared sense of purpose, and/or backing from a community such as a church, synagogue or mosque. Often these people or organizations can provide startup funding in the form of donations and/or personal loans.
Grants – Finding and applying for grants is hard work but can result in helpful contributions to your school. Our associations and organizations listing includes some good starting points for researching grants available to private schools.
Sources for recurring funding
Tuition
School tuition is the most common, and most obvious, source of recurring funding. As your student body grows, so will the pool of money coming in from tuition, allowing you to fund many of the items you'll need to keep your school operating from year to year.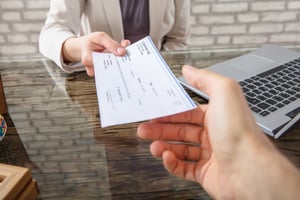 Once you've worked on your business plan and budget, you probably have a pretty decent idea of the operating costs involved in running your school and can start to think about what you might need to charge for tuition in order to pay the bills.
That said, you'll also want to research and consider competitive tuition rates for other private schools in your area. You'll probably encounter some resistance if you try to charge 2 or 3 times what other similar schools are charging, so having an idea of the market can help you have reasonable expectations from your families. Just researching your potential competitors by calling or visiting their website is a great place to start. Additionally, data is available on average tuition by state and by large towns and counties. This should at least get you into the right ballpark and you can fine tune your budget and projected expenses from there.
Federal funding sources
The US Department of Education has a several options for private schools looking for additional funding support:
Title I Funds - One option is for your school to become a supplemental educational services provider. Basically, if your school offers after school tutoring or other enrichment services, you can open these services up to public school students, and the federal government will provide support. Your school can apply to be a part of this program through your individual state DOE, which you can find contact information for on our state-specific resource page. You can also read more about this opportunity here.
NCLB - There are also funds available through various sections of No Child Left Behind (NCLB), depending on the services your school offers, and the eligibility of the students enrolled in your school. The Department of Education has a guide to NCLB for private schools that can help you determine what you might qualify for once you know what your student body looks like.
Grants – The US Department of Education provides this list of organization and agencies that offer grants to schools that can come in handy if you meet specific criteria. There is a little bit of legwork behind researching these grants, but they're good ways to find funding if you've got the time to invest.
State funding sources
Many states provide tuition support through voucher programs and state subsidies. Check out our state-specific pages for information specific to your state.
Helping families find funding
While we're on the subject of funding, there's a chance you'll find families who are interested in attending your school but can't afford tuition or need financial assistance to do so. While your school may be able to offer discounts or scholarships for families, you may not be able to afford to do so in all cases – after all, you are trying to cover your expenses and tuition dollars help with that. There are some private foundations that offer scholarships to students who would like to attend private school. Amazon has lots of books that can help parents find financial aid for their students, too. Additionally, you'll find more resources on our state specific pages.

Soliciting contributions
Whether you're looking for help with start-up money or the ongoing expenses of running a school, one of the most sure-fire forms of funding is through individual contributions.
If your school is registered as a non-profit, donations made to your school are tax deductible by your donors, which can sometimes be an attractive selling point when soliciting contributions. If you decide not to go the non-profit route donors can still send money your way, but those funds will not be tax deductible.
Donations are the backbone for many private schools but setting up campaigns and actually getting a steady stream of donors is no simple task. Donor Search, a resource for nonprofits looking to raise funds, suggests that there are 5 main steps involved in fundraising for a school.
Set goals and hone your story – If you're following along with our guide here, you've got this step done already. Before you can fundraise for your school, you've got to be able to tell people who you are, what your school is all about and what you are trying to achieve. If you've set up a strong brand identity with a mission statement and core values, you should be able to cross this step off your list.
Document your fundraising strategy – What are you trying to accomplish, how much money do you need, when do you need it by, and who are you trying to target? The more you clarify your objectives and strategy now, the easier the process is going to be as you work through it. And, people are more likely to make a donation or increase their donation when they have a clear understanding of what their donation is buying.
Put a team together – Whether this is friends and family, school employees (or future employees) or strangers who have shown support for your school, you'll need a strong team of contributors. Depending on the scale of your fundraising project, you may not need to enlist a huge team at first, but as your school grows, you'll probably need to grow your fundraising team, as well.
Follow private school fundraising best practices – As your school community grows and develops, maintaining a list of potential prospects (parents who might donate) is a good plan. Additionally, you'll want to keep track of alumni, both so you can reach out to them in the future and so you can share their success as part of your fundraising materials. Additionally, don't be afraid to use your connections. Your students and their families may know someone who can assist you in your efforts – keep track of these connections for future use.
Host a fundraising event – Events are a great way to get the community involved in your school and raise money without having to actually ask for it. Holding a spring or fall festival, auctioning off donated items or student artwork, selling school shirts, and just having a chance to interact with your community are all great ways to raise money for the school while keeping people actively involved, rather than just passively writing checks.
For many, participating in fundraising is uncomfortable and difficult to handle. Charity Auctions Today has some great tips on how to ask for donations. Among their recommendations: decide what you're asking for, choose your asking strategy, and offer other engagement opportunities.
Another avenue to explore is companies that offer donations or fund matching to nonprofits. There are lots of local options to explore but Fundly and Double the Donation both have great lists of national companies that might be helpful in your search for donors.
Additionally, if you're looking to raise funds specifically for facilities and buildings, the National Clearinghouse for Educational Facilities has a guide for schools.
---
Business plan and budget
Topics covered
Business plan versus budget
Creating a business plan
Developing a budget
Business plan versus budget
A common misconception is that a well-defined and detailed budget is essentially the same as a business plan. While a solid budget is an important component of a business plan, a true business plan looks beyond just the projected income and expenses to answer questions about both strategy and tactics.
Creating a business plan
One of the most important steps toward starting your school is writing a business plan. Your business plan functions as the guidebook for all the planning and organizing you'll do in the first few years starting your school. Particularly if you're looking for sources of outside funding for your school, a business plan is a crucial element in that process.
Creating a business plan can take time, but the good thing is that they tend to follow a consistent format – so you can basically work from a template to create yours. There are two common approaches used today:
A traditional, full business plan tends to be comprehensive and detailed. Creation of a full business plan can be time consuming but going through the process will help identify areas of planning that you may not have considered, and the resulting plan shouldprovide sufficient details to be used when talking with banks or investors. For full business plans, the US Small Business Administration has a great step-by-step guide that walks you through each section of your business plan, along with some examples to look at.
An alternate approach is the lean start-up plan, which is faster to write and focuses more on high-level plans and a few key elements. Lean plans can be a good place to start, with the assumption you will update and revise the plan frequently. Particularly if soliciting funding, you may require additional time and detail later. Tim Berry, one of the leading experts on lean business plans, provides a good overview in his What's a Lean Business Plan article.
Developing a budget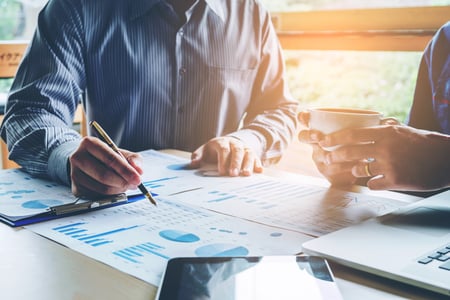 As mentioned previously, while a budget is not by itself a business plan, a budget is one of the most important instruments you need for planning. Several excellent resources exist that can help you develop a budget, including:
---
Facilities
Topics covered
What kind of space do you need?
What kind of stuff do you need?
Safety, comfort and security
What kind of space do you need?
So, you've thought about your budget and the money you might need to set aside for a physical location to have your school. What other considerations should you be thinking about?
How much room do you need? If your initial student enrollment is relatively low, it really changes the game as far as how much physical space you need for your school. If you've got a hundred (or hundreds!) of students, you're obviously going to need more space. Start to think about what is realistic for the size of the school you're starting off as. You can always expand or move once you've outgrown your current location.
Do you need a kitchen/lunch space? If you're going to be providing food for your students, you open up a whole bunch of things to think about and find out. In addition to the physical space for a kitchen and lunch room and the equipment and seating that goes along with it, you'll need to make sure you are in compliance with any requirements for storing, preparing and serving food. Most counties or states do require inspections of kitchens, though some jurisdictions have different requirements for schools than for restaurants. You'll want to check the state pages for more information and consult local health department officials, as well. Additionally, some funding is available from the National School Lunch Program for offering lunches to students who qualify. You'll find specific information about that on your state page, too.
Do you need space for physical education and/or outdoor activities? Depending on the age of your students, and even the state regulations on recess/physical education time, you may need this kind of space. In some areas use of public parks or access to playgrounds at nearby churches or other facilities might be an alternative to maintaining your own outdoor space. Your state may also have requirements when it comes to fencing in outdoor spaces for young students, so this is something to consider as well.
Can you get creative or share space? Depending on the space you need and your connections in the community, you may be able to sublease space for your first year or two until your school grows enough to expand your location. If your school has a religious affiliation – or even if it doesn't - sometimes a local church or temple will have classroom space that is unused during the week. You might find a local business that has extra conference rooms or other spaces that can be rented at a reduced rate. Even empty commercial spaces for offices, warehouses and retail have been successfully used for schools. Don't be afraid to explore nontraditional options, rather than running out and buying leasing space in a traditional school building right away.
What kind of stuff do you need inside that space?
Operating a school requires a surprising amount of stuff. Imagine for a second what a typical school front office looks like. Now, a classroom. Every item in those rooms has to be purchased or rented for your school. Let's tackle it in three main categories: consumables, furniture and technology.
Consumables
There are a lot of small items that schools go through in surprisingly large quantities – paper (both lined and for printing), pencils, markers, chalk, tissues, bathroom supplies, etc. Some options for stocking up on these include:
Furniture
Furniture entails a whole lot of items from one corner of the school to the next.
In the front office/administration area, you'll probably need file cabinets, desks, and chairs for administrative staff at the minimum. Chances are you'll need places for visitors to sit and wait, as well.
In each classroom, you'll need a desk and chair for the teacher, as well as some kind of seating arrangement for students. This could be traditional desks, multi-student tables, or maybe something else, so this is the best time to think about embracing some other options for student seating. Teachers will need some kind of classroom storage, as well. Bookshelves, cabinets, and/or cubbies are good classroom furniture options.
As far as acquiring all of this furniture, you have a lot of options, depending on the quantity you need and whether you're willing to pick up used furniture to save some money.
If you're willing to have used furniture and perhaps some items that don't match perfectly, one of the best resources are local universities, hospitals or large local businesses. Public school districts, for example, sometimes offer older furniture at a steep discount when new items are purchased. Universities and large businesses tend to do this as well and can save you large amounts of money. A web search for "surplus" alongside the name of your local school or business will often turn up details for where and how surplus furniture is sold.
There are hundreds of online retailers who sell school furniture both new and used, and so choosing may become more a matter of personal preference, estimated delivery times, and the specific items you'd like to pick up. Some of the top sites for classroom furniture are Worthington Direct, Lakeshore, and even discount furnishing retailers such as Wayfair.
Technology

Hopefully technology came up previously, as you were working on aspects of your curriculum and business plan. In well-planned schools, technology is used for a combination of back-office and operational tasks, as a tool for marketing and parent communications, and to support student learning. From a purely physical standpoint, common considerations include:
Your school will likely need computers for staff, a printer (or multiple, depending on your school size) and internet connectivity.

You'll likely have some kind of networking/wireless set-up, so staff members can access email/gradebooks/resources from their computers. Unfortunately, your $100 wireless router from the local big box store isn't going to offer reliable wireless to the entire school, so you'll have to invest in something a little more powerful. Network Computing published a good article in 2016 about considerations for planning a wireless network. Recently, products from Aerohive and Merkai have received a lot of attention in the education space. There are many other quality vendors for wireless hardware as well. Alternatively, you could only have wired connections to the internet, but you'll want to think about the students' ability to easily connect – wireless is more flexible in this respect.
You'll want to have some kind of telephone system, at least for front-office staff. Some schools extend telephone service and/or voicemail to classroom teachers also. Increasingly, organizations are turning to VoIP phone services, which use the internet to connect phones and make calls (think of something like Skype, but with the option to connect real phones and manage phone extensions centrally). Advantages of VoIP phone systems include the ability to easily scale up or down, lower overall costs, and flexibility to take calls in a variety of locations and from a variety of devices. Two of the leading players in commercial VoIP systems are RingCentral and Vonage, with many other quality providers entering the space in recent years. With VoIP phone service you may need wired connections for your VoIP phones, to ensure minimum quality for Internet access.
There are other internal technologies that your school may want to adopt, such as an intercom/announcement set up or a security camera/monitoring systems.
The biggest question, though, is what, if any, devices to provide to students. With educational technology become more and more important, many schools are engaging in 1:1 initiatives, where each student is issued their own computer or tablet from the school to use for school work, both in class and at home. Other schools opt for a BYOD (bring your own device) program, which relies on families providing hardware for their children. There are pros and cons to both types of programs and will ultimately come down to your vision for how technology will be integrated, and what sort of budget you are able to allocate for this initiative.
What about school safety, comfort and security?
School security is definitely an important consideration, both in the budgeting process, and as you begin to prepare for the first day of classes.
A good starting place for thinking about this is the drop-off and pick-up procedures for your school. How is your pick-up area configured? Is there a safe place for cars to line up and for students to wait? Who will check students in and out? How will you keep track of who is and isn't allowed to pick up a student? (Note, this is an area where good school management software like Twine can help – you can read more about this in the section on marketing and online presence.)
Once students are safely dropped off, how do they access the school? Does everyone come in one main entrance, or will they be streaming in from different areas? Are the doors locked once school starts? Who will be responsible for watching the students as they walk into the school?
Another consideration is how school visitors will be handled. Do you have a sign-in process for parents and other guests? Will they be required to wear name badges or something else to identify themselves?
Otherwise, physical safety is also a concern. What are your local codes for fire systems, emergency exits, ADA accessibility, locations of bathrooms and sinks? Most of these considerations will come to light as you prepare for inspection prior to opening, but there may be things you need out of your school space that aren't required by code. For instance, in some older buildings, things like ADA compliance can be waived due to narrow halls or small bathrooms. This may work for you now, but what will you do if you have a wheelchair-bound student enroll?
↑ Back to Top
---
Staffing
Topics covered
Interviewing and hiring
Finding the right teachers
Other staff
Interviewing and Hiring
Finding and hiring the right staff is perhaps the single most important key to the long-term success of your school. While interviewing and hiring is considered by many to be an art, there are proven methods you can use, backed by years of experience and research, to improve your chances of finding the right people for your school. A structured process and consistent approach will help you to identify applicants who are the best fit and will help you to stay out of trouble with questions that may not be permitted. (Yes, there are questions that can get you into legal trouble if asked during an interview!)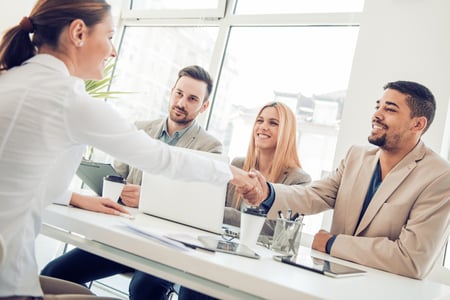 Even when hiring based on word-of-mouth and personal referrals, a structured job interview can be critical to ensuring a candidate is the right match and has the values, skills and experience you need.
A great resource for how to plan and conduct interviews is Topgrading, by Brad Smart. While his recommended interview process can be lengthy it is also highly effective, and his book does a great job of setting out how to build job descriptions, how to identify the skills and values you need, and how to structure questions that will find candidates with alignment in these areas. Another highly respected primer on hiring is Who, by Geoff Smart and Randy Street.
And last, remember that the best candidates will be interviewing you just as you are interviewing them. The best way to attract quality talent is to ensure you are presenting your school in the best light. Prior to advertising openings, we strongly recommend that you have a professional website that candidates can browse to learn about who you are, what you stand for, and to see why they might want to come work for you rather than one of your competitors.
Finding the right teachers
Teachers are your school's most important resource, and so choosing the best to help you start your school will make a big difference in getting your school started on the right foot. When looking to bring teachers onboard, there are a couple big things to consider:
Does your state or county require that private school teachers hold the same certifications as public-school teachers?
Outside of mandatory requirements, what kind of background or experience are you looking for when hiring your teachers? This may be something you'll want to discuss with your board in order to establish a set of criteria that will act as a guide throughout your hiring process.
There are myriad places to advertise an open teaching position, but some of the most popular job sites that focus on education are:
Other staff
There are likely a number of non-teaching responsibilities you'll need filled at your school. You'll have to determine which ones should be immediate hires based on your budget and size of your school.
Keep in mind that hiring full-time staff for these tasks may not be necessary in every case. For some services, such as custodial services and bookkeeping, there may be local firms with whom you can contract on an as-needed schedule. Many schools leverage community expertise too, asking for parent volunteers who help with bookkeeping, media center / library services, meals, and traffic control / student safety during drop-off and pick-up times.
Some of the responsibilities you may need to consider include:
Bookkeeper/front desk clerk
Custodial services
School nurse
Guidance counselor / therapist
Librarian / media specialist
School security / student safety
Nutrition / food services
If you've got an especially large school or have concerns about crime or violence in your area, one thing to consider is a school resource officer (SRO). SROs are typically police officers who protect and monitor a school. Depending on your school size, this might not be needed, but you'll want to think about which staff members are responsible for keeping an eye on people coming and going from campus. This is an area of concern for many parents and having concrete plans in place will be beneficial when the questions are asked.
For general hiring, you may want to utilize a service that helps you to manage applications, and that shares your job listing across many of the popular job boards and/or social sites. Two sites (of many) that can help with this are:
---
Policies and Procedures
Topics covered
Setting clear goals and expectations
Setting clear goals and expectations
Ask just about any school administrator and they'll tell you that the student/parent handbook is an important resource when it comes to making sure that everyone at the school – teachers, staff, parents, and students – are all on the same page when it comes to behavioral and academic expectations. Think of the handbook as the overarching policy book for you school: the place everyone will turn to make sure that situations are being handled fairly and that things are in order.
School policies on allowed/prohibited items, disciplinary actions, attendance processes, academic expectations, and even expected student or parental involvement in school committees or activities should all be explained in your student/parent handbook.
All that considered, the handbook is likely to be a work-in-progress over the first few years, and will likely be revisited and revised as policies evolve over time. Education World, a resource website for educators, has an incredibly comprehensive list of things to consider for your student/parent handbook, as well as links to exceptionally great handbooks that can serve as inspiration as you begin to create your own.
---
Marketing and Online Presence
Topics covered
Defining your audience
School websites
Social media
School management software
Non-Internet marketing strategies
Who are you trying to reach?
The most important (and often overlooked) consideration when planning your online presence, is to ALWAYS start by considering your audience. There are important differences between the information you should share with enrolled students and parents, and what should be shared with the general public for recruiting and marketing purposes.
Too often, schools think they should try to communicate everything, everywhere. The result is that both prospective families and currently enrolled families all get frustrated, having to wade through content that isn't intended for them. Instead, you should identify specific channels that you'll use to promote your school and get the attention of prospective families, and other (restricted) channels for communicating with active students and their parents .
As a general rule, your website and social media presence should be oriented toward prospective families, community partners and prospective employees. These channels should include information explaining who you are, what your school believes, and what makes you unique.
For anybody who is actively engaged with the school, including staff, advisors, enrolled students, and their families, all communications should be centralized in a secured "portal" or intranet with one-stop access to discussion groups, calendars, committees, online class areas, news and updates, photo galleries, and individualized data about student performance, homework, grades, attendance, etc. We call this portal a School Management System.
At Twine, we have built our platform to support exactly this structure, with both an intuitive, comprehensive School Management System where staff, students and parents and engage securely, plus integrated public-facing websites for prospects.
Want to learn more about how Twine can help your school? Reach out to one of our experts.

School websites
The first place most people go when doing research is the web. It is critical to have a website early on that represents your school professionally, can be accessed on any browser or mobile device, and that tells your story so you can recruit quality staff and attract the right applicants. All this needs to happen before you open your doors!
Remember that your public website is best suited as a recruitment tool for prospective staff and students and should be optimized as such. Keep your website free of clutter that is only relevant to current students and families – such content should be shared instead through your school management system. The public website should make it easy for visitors to understand who you are, and to get in touch or apply if they want to become part of your community.
As a service built as a one-stop for independent schools, this is one of the areas where Twine can help. We provide websites for schools that are beautifully designed, easy to setup and maintain, and provide online applications for staff and students. After your school opens, the website is optimized so information you're sharing with families such as calendar events, news and announcements can be shared to your public website with no extra work. Best of all, Twine's websites require no specialized technical knowledge or skill.
Alternately, there are plenty of low-cost, stand-alone website solutions you might consider. Note that most of these solutions will require that you build or modify a web template, design your site navigation and menus, and then fill in and maintain content. In many cases you'll want to engage a professional designer to get the most out of these platforms, even if starter templates or free options are provided. Incorporating applications and dynamic content, in particular, are functions you'll want to be sure to investigate. Common general-use platforms include:
Social Media

Social media can be a good way to get word out about your school without having to invest a large amount of money into advertising or marketing budgets. Social media can be particularly effective once you've connected with supporters who will help to spread your message by sharing posts with their networks. One word of caution, though: to be effective, any social channel you choose will require regular updates. If you're not sure you have the staff or time to post fresh material on a routine basis, it is best to limit the number of social channels where you're active.
School management software
Your school management software should be your one-stop-shop for everything needed by your staff, students and parents. We generally think of comprehensive school management software as helping in three areas:
1. School operations
From student enrollment to course scheduling, gradebooks, report cards, attendance, centralized student records, parent contacts, and more, your school management system should be the one place you and your staff go when they need information.
Equally important is a place for secure collaboration among staff and school leadership. Even before your school opens, you need a place where you can work with advisors and leadership to discuss policy, make plans, share documents, and work through the business of opening your school. This is why at Twine we provide secure access for staff to our school management platform alongside every public-facing school website. It isn't enough to tell the world who you are, you need a private place to work out all the details, too.
2. Parent Communications
Communicating with parents is one of the most important things you can do as an administrator or teacher at a private school to keep parents happy and increase student retention rates. With school management software like Twine, there is built-in messaging among students, parents, and faculty. Parents can also view attendance information, grades, course schedules, homework, announcements, and more just by logging in – and they can even do this from their phones. Having this level of communication and presenting it in an easy-to-access format means more happy parents – and that is exactly what you want.
3. Online Classrooms
Students today have grown up in an always-connected, networked environment where the information and answers they need can usually be found online. Students are comfortable interacting online, sharing ideas through social media, and consuming all sorts of digital information. Online classrooms are an ideal way to take advantage of student's proclivity for use of technology by providing an academically appropriate, secure place where they can access school resources, ask questions, and interact in meaningful ways with their peers and teachers. Imagine students having access to videos or interactive online activities instead of just printed worksheets when it comes time for homework; or providing an answer online to one student's question that now benefits the whole class; or creating a forum where students can step up and use their knowledge to help their peers, deepening their own understanding of materials in the process. Online classrooms mean students can do all these things, enriching their learning experience and improving their opportunity for success.
Non-internet marketing strategies
Other than using the Internet to get your message across, other effective ways to advertise your new school include word-of-mouth and traditional channels such as print and broadcast media.
Print advertising – Depending on the area in which you live, you may have local print publications you can advertise in. Think about newspapers, local magazines, community calendar publications or similar.
Radio – In many markets radio can be an effective way for reaching targeted demographics and can be less expensive thank you might think. Announcing your opening or your deadline for applications on the air can be a good approach for general coverage and awareness.
Advisory boards – In addition to providing helpful insight into the organization and planning for your school, advisory board members often have networks that can include prospective staff and families. Be sure to talk with your advisory board members about recruitment when the time comes.
Word-of-mouth advertising – It may be a little slow at first since you haven't gathered a lot of happy parents yet, but taking advantage of word-of-mouth advertising is a great way to help find new families to enroll in your school. If you're looking for some tips to really take advantage of your word-of-mouth advertising opportunities, check out this list of tips assembled by a school marketing professional.
---
Associations
Topics covered
Associations by school type, religious, or academic focus
National private education and homeschool associations
Regional and state education associations
Associations by school type, religious, or academic focus
National private education and homeschool associations
Regional and state education associations
There are a variety of state and regional education associations as well. You can find more information and links to the appropriate ones by visiting the state resource page for your state, below
---
State-Specific Resources